Blogging has been a bone of contention for many marketers and webmasters over the years. While many believe that blogging is indeed helpful for any business, there's a group that completely disagrees. The argument placed is that why should you spend time and money over blogging when it does not directly generate any leads for you? While this argument from one perspective does seem logical, it should be noted that lead generation is the last step of business development. Lead nourishment comes first! And, there's no better way to nourish your leads than providing them content.
However, being an owner of a striving and thriving small business, it does seem unnecessary to spend time on blogging and interacting with your potential customers instead of just finding new ways to sell them the product. Surely that seems like a quick fix but do remember that it will be temporary. Paid marketing for lead generation works but there will come a time when you would want more and more traffic against less and less investment. How do you think that can happen? One simple answer – organic traffic. And, when we talk about organic traffic then one of the most important aspects of it is blogging.
In this article, we will be talking about the following points:
Content Marketing and It's Importance in the Lead Generation Funnel
Benefits of Blogging that You are Missing Out On
How to Get Started with Blogging
Remember, since this article is mainly about blogging, we will be specifically talking about the benefits of blogging and how to get started with it. We will also be touching different types of blog posts and strategies you can adopt. However, this does not restrict content marketing to just blogging or is in no way a commentary on devaluing other content marketing techniques.
What is Content Marketing?
Simply put, content marketing is the process of creating, publishing and distributing content on various platforms in order to attract potential customers. Content marketing is a vast term that has been coined in the past 2 years. Activities such as distributing press releases, writing guest posts, blogging, video distribution, article submissions, infographics and the like all are part of content marketing. Over the years, with the changes and updates in the algorithm and policies of search engines, mainly Google, content marketing has evolved. Previously, content marketing was as easy article submission and press release submission on various websites such as www.ezinearticles.com and www.prwire.com. However, today, things have become stricter and webmasters are compelled to stick to content marketing methods that are not considered spam by search engines.
While it might sound that content marketing has become difficult, the truth is quite the opposite. In fact, content marketing has now become more natural and fun to do. How? Today, marketers can maintain blogs and use social media websites to leverage their blog posts. Similarly, there are various other methods of content marketing that are more fruitful than simply submitting content to directories.
Caution: If you still don't know that press releases and article submissions on directories can get your website penalized, then you must read Google's updates regarding the two.
Since this article is focused towards establishing the importance and benefits of blogging, we would not fray over other content marketing methods and stick to blogging.
Why Most Webmasters Want You to Stay Away from Blogging?
Blogging has become a lot more beneficial in the last 3 years. Since the introduction of 'No Follow' and 'Do Follow' tags, and the penalization of article and content directories, a lot of webmasters have been forced to cling onto their blogging platform. Like everything else, when there is a bad side, there is always a positive side waiting to be explored too.
With all of this in mind, one can easily say that the generic methods of content marketing have to come to a standstill but the natural and more authentic ones are now ruling the show. This means that today content marketing can be as easy as publishing one blog post a day and sharing it on social media channels to get visitors. Of course, most webmasters wouldn't want you to believe this. If you do, you wouldn't pay them to write tens of articles and press releases monthly, would you?
Benefits of Blogging:
There are numerous benefits of blogging and each needs to be understood well if you want make the most out of it. While most small business think of blogging as a waste of time and resources, it should be noted that if utilized properly, blogging cane give you long term returns such as lead education, lead nourishment, lead generation and even expand your outreach. Some of the most important benefits of blogging are mentioned below:
Benefit # 1: Helps with Search Engine Optimization: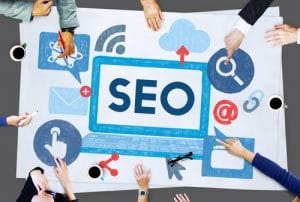 The primary benefit of blogging is that it helps your website get better rankings in search engines. As we all know that content is the king, blogging provides you an opportunity to fill up your blog with keywords by writing blog posts.
Not only this, unlike article submission and guest posting, you are free to publish any type of blog post that you may like. In addition, one of the major ranking factors is to constantly update your website.
Your blog being part of your website, it's easier to regularly update your website with search engine optimized content to improve your rankings.
Here are a few popular blog post types that you can use to get massive traffic to your website:
Skyscraper Posts: It is usually recommended to write a skyscraper post once a month at least. This is a lengthy posts of more than 2,000 words that is broken down into snippets from your other articles. The skyscraper article will provide links to your other blog posts, giving it good link juice (internal and external links). Your blog can also produce incoming links for your actual brand website as well. Since these posts are quite long, you can use different keywords in it, making them highly optimized for search engines.

Pillar Articles: Pillar articles are similar to skyscraper posts; they are lengthy. However, unlike skyscraper articles, pillar articles usually should not have links to other articles on your blog. The primary purpose of pillar articles is to initiate fan following or to set a foundation for your blog. The 1000+ word count will give you an edge in search engine rankings.Video Posts: Yes, videos are part of content marketing. Your videos will show up on search engines as well. So, a good video with a short description ranging between 200 and 300 words can give your blog the boost it needs.

Infographics: Two years back, infographics were a weapon of great potential for webmasters. Even today, infographics have the potential of making your posts viral. You can publish infographics on your blog, submit the blog link to the directory and share the link on social media as well.

How-To's: How To blog articles are highly effective as they usually provide solutions to problems. They are usually 500 words in length or more and are accompanied with images or videos.Standard Blog Posts: Standard blog posts are usually the ones with 500+ words, targeted on a specific keyword. The purpose of these articles is to either inform your readers or potential clients about recent updates or educate them on a specific subject. Whatever the case maybe, they are still highly beneficial for search engine optimization.

List Articles: List articles have grown in popularity over the years, mainly because Google loves them. By using a numbered format such as 'Top 20 Coffee Shops', you are giving a limited yet very effective and attractive headline to your content. In addition, your content is more likely to appear on Google lists.

Other Posts: In general, you can actually publish anything and everything on your blog; that's the beauty of blogging. From opinion based articles to videos and press releases, your blog is a weapon that you can use for search engine optimization.
Benefit # 2: Helps with Link Building:
Apart from on-page SEO, blogging is a great way to build links as well. Recently, Google has been placing restrictions on article directories, press release directories and other such platforms. They are no more allowed to give you 'do follow' links and their PR has dropped significantly. In addition, getting links from these websites usually puts you in the negative zone – the zone where you are placed on Google's radar for spamming. The only savior you have in such a scenario is your blog. Link building with blogging has triple-tier effects, unlike most other link building strategies.
You publish the post on your blog giving a link back to your website.
Once the post is published on your website, you can submit the link to various directories and social bookmarking websites such as StumbleUpon, Dig and the like. You can even submit to directories to get backlinks.
You can share your blog post on various social media websites, giving you the opportunity to make your posts viral as well as attracting potential customers from these forums.

Benefit # 3: Best Way to Nourish or Educate Leads:

Lead nourishment is a crucial phase of any sales funnel. You need to nourish and educate potential customers in order to brainwash them into buying your products. You don't have to make selling pitches on your blog but simply educate your customers about your products, your services, market trends or random news that is going on. While this may sound like a waste of time, it is actually quite helpful in condensing leads. In addition, once your blog starts appearing in Google News and other similar areas, you get more visitors who might turn into potential customers.

Here's a sales funnel pyramid depicting the importance of lead nourishment in the digital marketing sales funnel:

Benefit # 4: Opportunity to Stand as an Authority:

When blogging is done properly (when you blog with the intention of education and not just adding content to your website), you can literally stand as an authority in your target market. Imagine if your blog stands as the major source of information in your industry, wouldn't potential customers of the industry trust you and believe your word to be true? Once you have gained that authority, you have more chances of converting potential customers into actual customers. People will believe in you and therefore it will be easier for you to convert more.

Benefit # 5: Helps with Social Media Management:

This is something I learned the hard way. Previously, my social media management consisted of putting up banners, statuses and posts about my products and services. However, when I realized the importance of social media signals to my website, I started posting my blog's content as updates on my social media pages. Here are the two ways it helped me:

I did not feel the need of sharing someone else's posts on my social media pages. Instead, I was now sharing my posts on social media pages. This means that anyone who wanted to read more would go to my blog instead of someone else's blog. In addition, since these were not just mere statuses and updates, I was actually able to get a chunk of traffic from social media. Instead of people just reading my statuses and looking away, they now had a link to follow to know more about it. Therefore, this increased the engagement on my social media pages.
It greatly helped with SEO as well. If you know, Google and other search engines now place emphasis on social media signals as well. In non-technical words, social media signals allow search engines to differentiate between brands that have high rate of engagement and the ones that don't. It is a way of determining your brand's authenticity.

In other words, if used smartly, you can actually use your blog posts for social media management purposes, which means you can completely rid yourself of the extra time and effort you spend on managing your social media pages.

Benefit # 6: A Platform for Engagement and Interaction:

If you allow users to comment on your blog, it becomes a great way of engaging and interacting with potential clients. Many businesses suffer from digital crisis management, which means that many of their customers, either unhappy or curious, are unable to either interact with the business or get the relevant answers. With a blog, your customers can easily leave comment and feedback on your blog posts. In fact, this is a really great way to nurture leads. For instance, once you publish a post and your readers come up with questions regarding it, they can simply comment on the post and you can answer. This way you are not only increasing engagement but also solving issues and portraying yourself as a leader. In addition, this also gives you the opportunity to connect with potential customers and get their contact information for future references.

And, if you are worried about customers and competitors leaving negative feedback on your blog, then you shouldn't be. Of course, you can always delete negative comments or moderate them and you can even reply to such posts to make sure you look authentic to other users. Such great engagement level actually appears as a positive signal to your target audience, making them believe that you are always there to work on their issues.

Benefit # 7: Opportunities for Lead Magnets:

Simply put, lead magnets are ways to grab the attention of your visitors and try to get them register with the contact information. Once this is done, you have the contact information of your visitor. You can use the information for lead generation purposes. This entire process is mainly done via email marketing. For instance, your customer signs up for a free ebook or any other product that you offer as bait for the customer to perform the action. Once this is done, an autoresponder will go to your customer providing them with the downloadable free material you had promised. You can either pitch your sale in this email or the follow up email. You can simply use a strong blog post to pull in customers and then make them sign up.

Benefit # 8: Your Own Advertising Platform:

If your blog receives good traffic monthly or daily, you have your very own advertising platform where you can place your ads or CTAs (Call to Action buttons) to get customers to buy your product. This is the beauty of maintaining a blog and making sure that your posts are going viral or are doing good on search engines. Once you start receiving massive traffic, you probably won't feel the need of advertising anymore.

Benefit # 9: Remarketing:

Remarketing is the process of targeting your existing customers or visitors who have been on your website. It is an effective marketing method and can easily be done via blogging. If your customers are signing up or commenting on your blog posts by registering, you will have a healthy list of potential customers to buy your new products. This is something that might not be possible with any other form of digital marketing.

Benefit # 10: Authorship Makes Your Reliable:

Google's authorship program allows you to link your blog posts to your Google+ profile. The benefit you get from this is that when your posts are displayed in search engine rankings, your name and profile picture appears too, in most cases. This creates more networking opportunities as it allows your readers to follow you. In addition, it also positions you as an authority in the field. If you ever wanted to be popular while writing blog posts, this is the way to go!

How to Start Blogging Right Away:

Now that you know about all the possible benefits blogging can provide (click here for five more reasons why you should blog), let's get started with setting up your blog in your wordpress website. If you don't have a wordpress website, then adding a blog might not be as easy and you want to skip step # 1 and contact your developer instead.

Step # 1: WordPress Blog Setup:

Setting up a blog in wordpress is fairly easy. However, there are a few technicalities that you need to know before you move on. Firstly, the home page of your website is usually set to static instead of an archive. Don't change that. It's better to create a new page called 'Blog'. This might come as a surprise to you but that's how simple creating a wordpress blog is. It's actually just another page on your website with blog-like settings.

Once you have added a new page with the title 'Blog', the next thing to do is to head over to the 'Read Settings'. Here, you simply have to select the new page you just created from the dropdown list of posts. Now, your blog page link should be added to your website's main navigation and menu areas. Upon visiting this page, you will see all your recent posts.

Step # 2: Getting Started with Blogging – Writing Effective, Optimized and Lead Generating Posts:

Once you have created your blog page, you will be excited to publish your post. But, hold it right there. It's time to consider a few elements before you move on writing your first post. Here's what you need to keep in mind:

Know Your Target Audience: This is always the most important aspect of any marketing campaign. Without knowing your target audience, you won't be able to create compelling content. I would recommend going through your previous customer experiences and jotting down their average ages, gender and other demographics. This will give you a clearer picture on what to write. I personally go as far as thinking about what type of conversations I have had with my customers and what were the elements they most appreciated about my business. This gives you an idea of which areas to focus on.

Research, Analyze and Create a List of Topics: Don't rush in and create a list of topics that you would like to write about. Remember, blogging is not about what you are and what you want to write but it is more about what your target audience wants to read. Research and see what type of topics are trending within your industry. You can use content marketing tools such as Buzz Sumo to get an idea of the type of content trending. Once you have this intelligence, the next step is to create a list of topics you think would be suitable for your audience. Tip: The best thing to write about is the problems your potential customers may be facing within the industry. Giving solution to a problem is always the best way to get readers or visitors.

Setting a Tone of Your Posts: While you are free to write in any tone you want (formal or informal), there are a few master strokes you need to know. Firstly, your blogs should be simple to read and digest by your visitors. Regardless of the industry you are catering, your blog's language should always be simple to understand. You don't have to be Shakespeare here and use tough vocabulary. Nobody is judging your writing skills. All your visitors need to know is the answer to their questions. If they can't understand what you are saying, the entire purpose of your blog will wash away. Secondly, be conversational. With my personal experience, I can tell you that when you write posts as if you are literally talking to your customers, they are more effective. Understand the type of customers you have, their psychology and what they are looking for. You will have to adjust your tone according to your industry. For instance, if you are selling baby products to mothers then probably your tone should be warm and friendly. On the other hand, if you are selling automobiles then probably your tone should be mature and semi-formal.

Choose Your Format: There are different types of posts you can create. As mentioned earlier, from long posts to short ones, you can publish anything. After all, you are the master of your blog. However, do keep in mind to include keywords and to keep the length at least 400 words. The lengthier your post is the more likely it will appeal to search engines.

Be Consistence and Maintain a Schedule: One of the biggest mistakes I have seen people doing is publishing the entire weeks or month's content in one go. This can hurt your website's ranking. Instead, maintain a manual schedule or use WordPress' plugins to schedule your content. By maintaining your frequency and consistency, you will be able to tell Google that your website is being updated regularly and not just once or twice a month.

Use Internal and External Links: In search engine optimization, the concept of link juice has a lot of importance. It's the measurement of your outbound and inbound links; links that are going outside your website to other websites and links that are going to other pages of your website. Links are very important to maintain has they have a great impact on your website's ranking. Try to provide references to other notable posts but make sure you are not giving any references of your competitors.

Add Graphics, Videos and Pictures: Remember to give your blog posts a visual appeal. If you are writing long posts, it will be difficult for your reader to read through 4,000 words without any visual appeal. Add videos and pictures to your blog posts to make them interesting. In addition, when you share your blog posts on social media, the feature image will be displayed.

Add Social Media Plugins: One of the best things I have ever done with my blog is adding social media plugins. With these plugins, I no longer have to worry about sharing my content on social media channels manually. All I have to do is publish the content and share on several social media platforms by simply clicking on their buttons. You should also add social bookmarking plugins such as of Stumble Upon, Digg and others. Social bookmarking helps a lot with SEO by giving you links. While these links are not as powerful as others, they still can get your content viral.

Additional Blogging Tips:

Blogging can be fun and you can create loyal readers over time. With today's power of social media platforms, you are no longer restricted to the traditional blogging methods of adding more content and less graphics. Today, you can add anything and everything to your blog and promote it on social media. I would suggest maintaining a schedule of the type of posts you are adding. For instance, adding a video once a month can bring in people who are not avid readers but would not mind watching a 1 minute explainer video. Similarly, adding pictures of your organization, updates on your recently completed projects, how to articles with images and other similar stuff can really be attention grabbing.

Concluding Notes:

Blogging is an important way of generating leads, education leads, optimizing website, interacting with your customers and increasing your engagement. Considering that most other forms of content marketing are now under the radar of Google, it is not optional anymore to have a blog on your website. If you run a business website and you want not just good search engine rankings but also a higher conversion rate and increased visibility then blogging is the way to go.

Photo credits: David M G